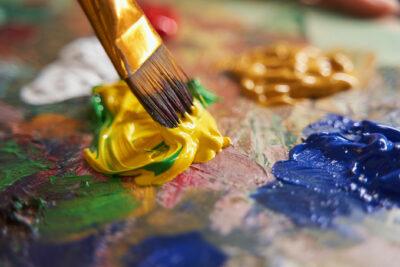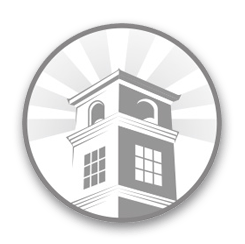 The Beacon Art Show
OUR HISTORY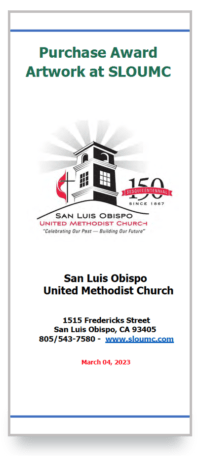 On Easter Sunday 2008 we celebrated the first San Luis Obispo United Methodist Church (SLO UMC) Beacon Art Show as part of the Grand Opening of the church's newly rebuilt structure. History leading up to this inaugural event began on Easter Sunday 2001 when a 5:00 am fire — the work of an arsonist – consumed the former 39-year-old church building.
The 2008 bell tower rising at the top of Fredericks Street hill (reminiscent of the 1911 church bell tower design pictured) was the inspiration for naming the art exhibit "Beacon Art Show". This annual show attracts visual artists from the Central Coast as well as statewide – showcasing their drawings, paintings and fabric art as well as three dimensional crafts and sculpture. To further its commitment to artistic creation, the show committee decided early on to connect purchasers directly with artists with the church receiving absolutely no gallery commission (which can often amount to more than 50% of the purchase price). Beacon Art Show is indeed SLO UMC's gift to the community.
The 15th Beacon Art Show opens on the first Friday evening in March, 2023 with a reception and presentation of awards. Welcome to the return of the in-person annual Beacon Art Show.
"Artwork helps me retain the good times and to unravel and understand the not-so-great times."
Virtual Gallery
Thank you for helping us celebrate visual art on the Central Coast!
This year, the Beacon Art Show received 181 entries, from which our jurors selected these 75 show finalists. We are proud to present this virtual exhibit that includes exceptional creative expressions across the ARTISTIC SPECTRUM theme.
The on-site exhibit was open from March 4 through April 2 at the San Luis Obispo United Methodist Church. This virtual gallery website will remain up for the remainder of the year, and many of the original artworks are still available for sale (with 100% of the proceeds going directly to the artist).
If you're interested in purchasing an artwork, contact us and we will connect you with the artist as soon as possible. Please include the title and the artist's name in your message. 
click on any image to launch the gallery
We'd love to hear from you! Please use the form below to send us your feedback on this show or any questions. If you're interested in purchasing an artwork for sale, please be sure to include both the title and the artists's name in the body of your email message. We will connect you with the artist as soon as possible.